Bison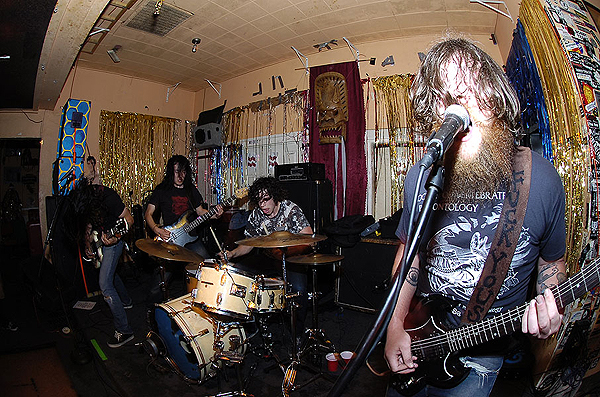 Posted: July 27th, 2007
"depressed and drunk in my room writing songs"
Interview & photos by Schmitty
James Gnarwell
from the epic Vancouver skate rock band STREETS has started a new project. The name is Bison, and they are heavy as fuck. I caught them the other night in SF and it blew me away, so I ended up going out to Oakland last night to see 'em again and spoke with the man behind the music, Mr. James Gnarwell himself.
How long has Bison been a band?
This version of it has been together since October of last year. 


How did it evolve?
After STREETS broke up, I spent the summer totally depressed and drunk in my room writing songs for my next project. I had a hell of a time putting it together 'cause it's hard to find decent musicians who are also cool dudes. 


So were these friends of yours already?
A couple were friends, and some I just knew from the music scene in Vancouver who weren't doing any type of solid projects. I basically totally lucked the fuck out with these dudes; they're awesome and talented and can put up with my bullshit. 


Where to from here?
San Diego, Riverside, Santa Barbara, Tucson, and then camping trips on the way back up. 


What's up with the Vancouver scene?
It seems to be cranking out epic shit left and right.
Absolutely. Vancouver's had a real resurgence of good, hard music. Vancouver's always been known for indie rock stuff, kind of lighter stuff—which is totally rad and that's great. But there's been more kind of rockin' tunes coming out lately, which is really good. It's a good balance to have, and in Vancouver all those bands can play together, you know. We play together with indie rock bands; a lot of our tight bros are in those bands, too. It's a good community. Vancouver's showing us a lot of love, it's great.
What are the comparisons between Bison and STREETS, and then the differences?
The comparisons are probably the reasons we do it, the stoke behind it. Just try and get people stoked, which is basically all I want to do. Get people excited so they forget about their problems. We do a lot of guitar harmony stuff, which I think was pretty present in STREETS. One of the major differences: it's a lot heavier. The songs are longer. There are less vocals too, which I was really interested in doing. I didn't want it to be such a vocal-based band. I wanted it to be pure sound. True, heavy sound. 


What are you gonna do after this tour?
We just finished this CD on Forest records, which is a new awesome indie label out of Vancouver. I think we'll probably do a small Canadian tour and send the album out and try to get an American label as well.
9/24/2020

After millions of album sales since the mid-90s, Third Eye Blind frontman Stephan Jenkins continues to make music without compromise or concern about radio hits and pop charts. He features Cher Strauberry in his newest video and she sat with him for an interview.