Buju Banton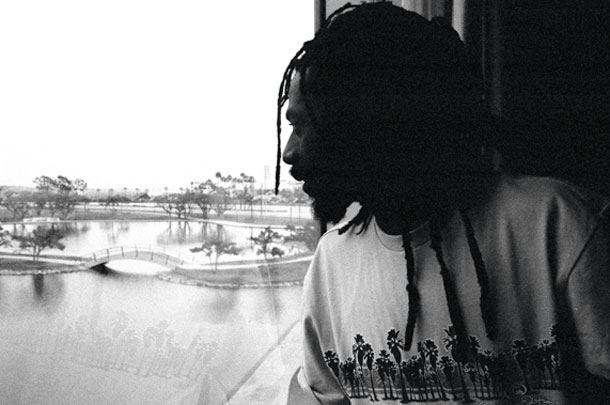 Posted: October 14th, 2009
"...everyone should be able to smoke marijuana, everyone should have the herb smoking card."

Interview by Aki X | Photo by Block

It's been years since we got to burn a fatty with Grammy nominated Reggae superstar Buju Banton. So when we heard that Buju was headlining the Long Beach Ragamuffin Festival we decided it was time to link up and burn something big and special. We purchased a super-blunt at Aroma Revolution, then we went next door to CHR (California Herbal Remedies) 
and packed the super bleezy with 15 grams of Rosenthal Super Bud, 
Grand Daddy Purple, and OG Kush. We headed to Long Beach to link up 
with Buju and talk about his brand-new album, Rasta Got Soul, the singles, his label, Cali weed, Jamaican weed, the Do's and Don't's of smoking weed, legalizing marijuana, and of course Cali super blunts. That's just how we roll in the purple state of Calijuana. Welcome to the West Coast.

Buju Banton in the building.
Yes I, taking it easy, you know, watching the herbs grow and the vibes flow.

How you feeling in Calijuana?
Irie and high as always. Calijuana, that's what you call it?

Yes, sir. What are you working on now?
I'm getting ready to headline the Ragamuffin Festival in Long Beach tonight. And we're going to release the new recording, the new album titled Rasta Got Soul, coming your way April 21, 2009, released on my own label Gargamel Music. The new single is on iTunes, titled "A Little Bit of Sorry." Get it anywhere you can digitally, and at all mom and pop stores across America. It contains 16 exciting tracks, aimed to stimulate the senses and life—like the herb does, you know—send you into a thinking mode. It's just about herb, Selassie I, and music.

Who produced it?
Myself, Donovan Germaine, and Wyclef produced it.

Talk about the singles.
The first single, like I said, is called "A Little Bit of Sorry." It has a ska beat, which is 
the roots of our culture, of reggae music. 
I love ska; it's the foundation of reggae music. 
The other single is "Magic City." It contains that heartbeat of reggae music—which is pulsating, speaking about magical moments, magical times, and that magical place. Also, "Optimistic Soul" talks about being an optimist. There are many, many musical renditions for you to enjoy. I could go on 
and on but I want you to check out 
the album. Get the original, not the bootleg. 
It sounds better.

Talk about Gargamel.
Gargamel Music has artists like New Kidz, who is putting out his sophomore album this fall. He's a dancehall artist who opens up for me at my shows and festivals, so he's 
coming into the framework. Look out for him. 
My energy is valuable so we can't spread 
our energy right now, so we just focus 
on New Kidz.

You also have some hot new riddims 
that are out now.
We have two new riddims mashing up the place right now. One is called "Goldmine" and the other is called "Jet Blue." We also have the single with Morgan Heritage, so please check out Gargamel.

You just released a big new tune with Jon Legend called "Can't Be My Lover."
Yes. It is an original tune, original recording, not a remix. Just trying to spread the reggae vibes to new environments.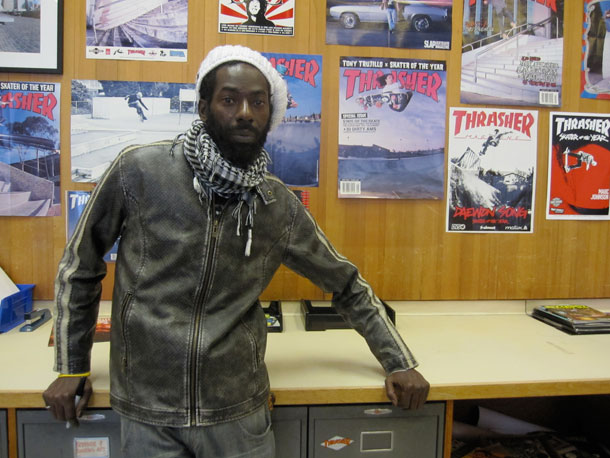 Let's talk about the herb. Obviously we're here in California, or Calijuana as we 
call it. Marijuana is legal within the 
state if you have a prescribed medical marijuana card from a registered 
doctor. How do you feel about 
legalized marijuana?
Obviously I advocate that, sooner than criminalizing marijuana or everyone of us they catch with a spliff and sending us all to a concentration camp. We have to show it's worth smoking, and that everyone should be able to smoke marijuana, everyone should have the herb smoking card. It's a requirement. 
Buju Banton a say so.

Do you see this happening in all other states across America?
I think it should be happening across all them states, but let's just work with what we have now—comfort it, you know.

Do you see this happening ever 
in Jamaica?
Well no, not in Jamaica, never at all.

Why not?
We have no need to smoke medical marijuana. We smoke it pure.

Is marijuana criminalized in Jamaica?
It's criminalized all over the world, ever since the global economy realized you could make as much money in marijuana as you could plastic. Marijuana is the next plastic in terms of money. So it is illegal to smoke marijuana everywhere in the world. Did you roll this?

Yep. It's the Calijuana super blunt, packed full of Cali high-grade herb, medicinal herb courtesy of the CHR.
A super blunt? Such a thing exists? In Jamaica we smoke only natural leaf tobacco and natural weed.

This is the balla blunt, the Crystal of blunts. At $300 a pop you need one of these when you're in the club, in your video, in the whip—when you in LA you got to burn a super bleezy. It's a requirement, Calijuana state law.
Yes, we're here and we're burning, 
Selassie I.

How do you like the California 
kush marijuana?
The California marijuana, or Calijuana as you call it, is very nice—but I find the growers aren't giving it enough time for the chemicals to exfoliate, so as soon as the buds start to change color they cut them down. 
They are cutting the buds too early, and it 
can give you an immense headache. It can make you nauseous.

You like Jamaican weed better than 
Cali weed?
Weed has a very distinct taste when it come from Jamaica. You can taste the mango. It has a nice mango taste because these herbs are grown outside in natural sunlight, not under halogen lamps.

Have you grown before yourself?
I don't come to expose too much information about how weed grow in Jamaica. I'm not an informer, just an herb man. What I will tell you is this; here are my do's and dont's of smoking herb. You ready? Never smoke herb on an empty stomach. Never chain smoke, because you never know where the next guy has been with his mouth. Always roll your own joint because you never know what other people put in your shit. Smoke nothing less than pure herbs. Never travel with herb on an airplane. Don't hide your herb down your crotch and then smoke it with your friends. I leave this for next time I see you.

Big ups and shout outs?
Going out to all California, or Calijuana as you call it, big up Thrasher magazine, California Herbal Remedies, Aroma Revolution, Gargamel Music, Carlyle Crew, New Kidz, 
Los Angeles, New York, Chi Town, Bay Area. Check the new album Rasta Got Soul by 
Buju Banton, out now on Gargamel Music. Selassie I.

Download Buju Banton tracks and albums from the iTunes store here or check his Myspace for upcoming shows.
6/06/2020

Hacksaw's music is not here for your enjoyment. It exists to pummel you into submission. We caught up with these heavy noise makers, but we were particularly curious about guitarist/skater Mike Hell's perspective and ethics of eating garbage straight from the can.