Hightower
Posted: April 5th, 2009
"The house got totally destroyed. We went back the next day and the porch was collapsed."
Photos & interview by Schmitty
When someone calls up
about doing a party or benefit show in San Francisco and needs a band, what's the first one that comes to mind? Hightower, obviously. They have at times had the curse of playing too often, but don't let that upset you. This three piece is a band of energy with heavy chops ready to explode in your bar like a Jaeger Bomb—which is what you'll be wanting to pour down your gullet when they plug in. The band just finished their new album,
Tower To The People
; I caught up with them at their practice pad before they hit the road with Frontside Five.
How did you guys meet and where are you from?
SH: Skateboarding; the bottom line is skateboarding. Jake and I have known each other since the '80s playing in bands in New York, then we moved out here 10 years ago and met Dave. Dave: I'm a transplant from Iowa. Met Shane skating down the street and Jake at a house party.
What are some of the early influences?
SH: We made a flyer looking for a drummer. It said, basically, old New York hardcore, good Metallica… Sabbath.
D: I don't think we ever talked about whom we sounded like, though.
SH: We always get together with people and see what happens.
J: Yeah, sometimes it clicks, sometimes it doesn't.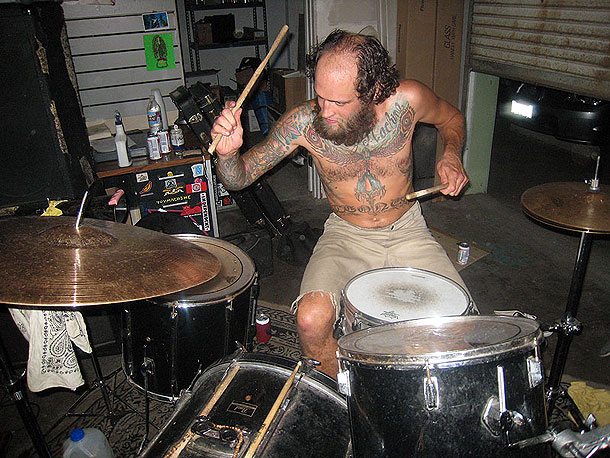 Shane, how did you become a drummer? I heard it wasn't part of the original plan.
SH: I was supposed to be the singer and we were looking for a drummer.
Did the evolution of you becoming a drummer turn you into more of an instrumental band?
SH: Maybe. We were just stoked on making awesome songs. We were into The Champs, then and they were mostly instrumental. I was so hyped to play drums.
D: You don't have to preach to people if you don't have anything to say, you know.
SH: Silence is the universal language.
You got a new album coming out. What's the deal?
J: It's a weird deal. Basically we're keeping shit in our own hands and in the family. It's all recorded—we're going to do digital downloads first on HamburgerEyeland.com. This is the first time they're gonna try it out, so we're working together on it. The plan is that the money from that will help us put the vinyl out ourselves. Unless someone really wants to help us out and put it out.
If I get the digital version, do I get a discount on the vinyl?
D: We're trying to figure that out still. Hit us up; we'll probably give you a discount.
You're going on tour now to promote it?
J: This tour, it's weird, it just fell into our laps recently. There's a label that puts out McRad, JFA, Minus One and the Frontside Five. The tour was supposed to be Minus One, Front Five and McRad, but McRad couldn't pull it. So we ended up taking a good chunk of the dates. In April, we'll be doing some Bay Area and Southern Cal gigs. We'll be in Denver in April, too. On the tour we get to play a show with JFA at the Etnies park.
What are the most shows you've done in one year?
J: 110 shows in one year. We toured with Walken. Part of the tour we played everyday for a while; it was gnarly.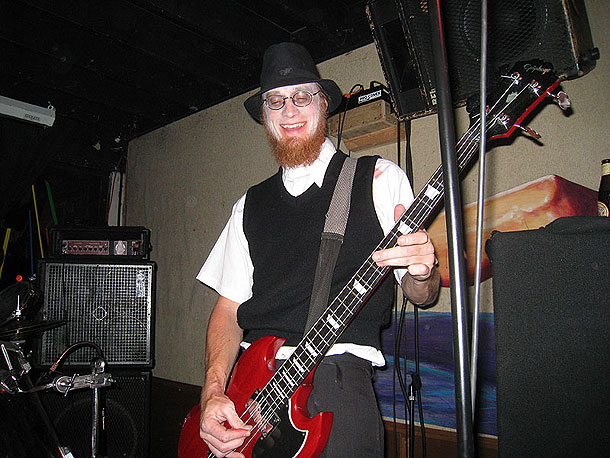 And nowadays?
D: We can't go on the road for two months anymore.
SH: We can't play your grandma's sister's, brother's apartment building.
J: Sometimes we still can.
D: One day I'll do it again.
SH: Australia, we're ready! Give us a call.
It almost seems like you purposely slowed down your approach.
J: It's not an approach.
Not an approach, but it just seems like you pick your poison a little differently now.
J: Yeah, I think you kind of have to do that. It's the way it stays fun. We just don't want to play here every week, and I don't think people want us to play here every week.
Top three shows of all time?
D: Georgia Street in Vancouver, one of our first shows ever with STREETS and 3 Inches of Blood.
SH: Riot. The cops came
D: The house got totally destroyed. We went back the next day and the porch was collapsed. J: STREETS have a song about it. There were ramps in the living room and everything.
D: Vancouver was like the third time we played a show. That show pretty much set off what being in a band was going to be like.
J: It's still about playing far away and playing crazy weird shows.
SH: We're going to be playing in Seattle for the Chili Bowl contest in July.
Have you played every Robstock?
D: Yup.
SH: We played our first tour around Robstock.
D: That's in the top three.
SH: Maybe San Jose on Cinco de Mayo.
D: But our favorite show is the next one.
SH: How do you like the new album?
I got back up vocals on that shit, but I can hear 'em even in slow-mo in HD. I got some questions from some of your friends. Magnethead asks, to each of you, who is the biggest pain in the ass?
J: Shane.
D: Shane.
SH: Me.
JDog asks how many times the Slug's seen some action, and who holds the title?
Anonymous: I hold the title with a lot. Anonymous: 400 times, every show.
J: If you do the math and figure how many shows we played, and do the percentage, we're sucking. Way more shows than shags.
Second part: calculate how much weed's been smoked by the whole band.
SH: Thanks to everyone for hooking us up with weed on the road.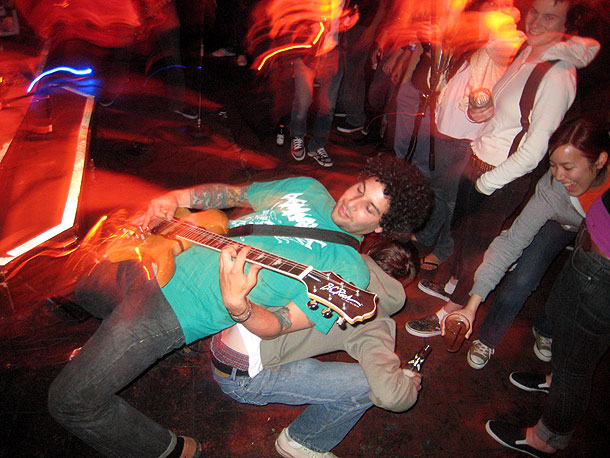 Halsey asks: What's the deal with your BSE?
SH: Every summer has been the best summer ever.
J: It started with STREETS. Then we just spread it.
SH: Roving metal bands. If you can hook us up with someone in Australia.
D: I'd love to meet Lee Ralph.
Who's your favorite bartender?
J: Did Emily write that one?
D: I don't play favorites.
Are you involved in other projects, and do you see them ever overshadowing the Tower?
SH: Hightower has an open relationship.
D: We allow each other to see other bands.
Who is the wallride?
You are.
No you are.
You are.
Drehobl asks: Ginger or Mary Anne?
Marry Anne!
If you were in space, which record would you be spinning?
D: Something instrumental.
SH: First of all, you're gonna have to define space. But I'm gonna say Sabbath over and over.
Special Shout-outs?
Greg from Earhammer for recording us, and a special thanks to Frontside Five for getting us on this tour, and to DCjam records for putting this tour together.
9/25/2020

After millions of album sales since the mid-90s, Third Eye Blind frontman Stephan Jenkins continues to make music without compromise or concern about radio hits and pop charts. He features Cher Strauberry in his newest video and she sat with him for an interview.