Lil Jon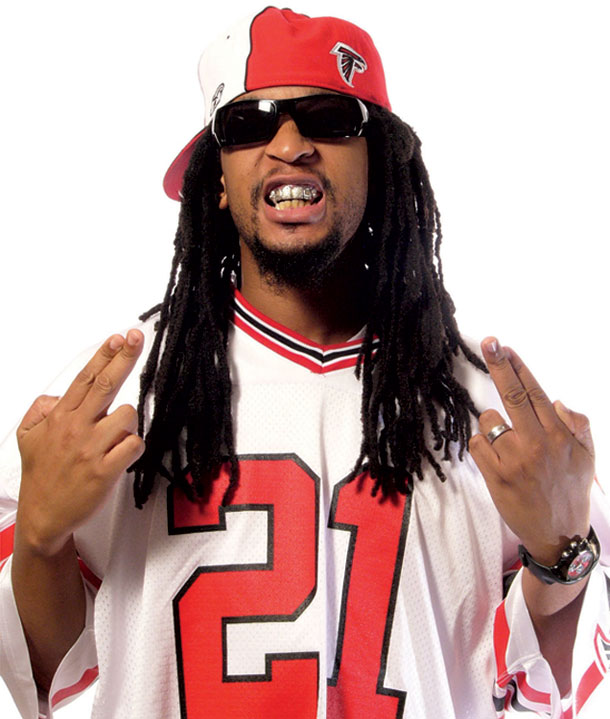 Posted: April 15th, 2009
"Vodka and Crunk Juice. The OG crunk drink."
Interview by DJ Trasha | Photo by Woods
Since back in the early '90
s
, 1992 to be exact, Atlanta producer and master of crunk Lil Jon has been doing this music thing on a large scale. Originally a dancehall reggae DJ, Lil Jon was the hottest one in the ATL. He went from sound system selecta to bomb reggae radio DJ personality to dropping his first number-one song, a hip-hop remix of Capleton's smash reggae hit "Tour." That remix was a first of that style, claiming number one in Jamaica. Since then Jon has dropped numerous platinum hits and albums, along with his platinum grill in your face spewing "Yeeeah, whaaat?" all over MTV, HBO and, everywhere else on this planet. Jon's also made his signature crunk, 808 bass-heavy hip-hop sound a legend in his happy hour. With a new partnership now with multi-platinum rapper 50 Cent and a host of new and major artists signed to his BME label, including E-40 and Ice Cube, Jon looks set to be in your face for a minute or two longer. Yours truly, London's finest, and Shelblack, the shooter, caught up with Lil Jon for a beer (or six) in Beverly Hills while Jon took a break from recording. Give it up for the man who put the Dirty South on the map. Crunk ain't dead, bitches.
Lil Jon in the muthafuckin' house, yeeah.
Yes, sir.
What you doing out here in Los Angeles right now?
Actually, I'm out here this time for the Oakley release of the Thump 2, the MP3 player sunglasses. They are the only MP3 player sunglasses anywhere in the world. The release party for them is tomorrow and I have got my own version out, which is pretty cool.
What music projects are you working on?
I'm working with my artists; Trillville, I just did their album. Lil Scrappy, working on his album. Same with Bo Hagen, Ice Cube, E-40, Too $hort, Petey Pablo, and Jamie Foxx, doing his album. Who else? Oh shit, so many damned people I can't keep up. Just trying to keep the producing going.
Did you used to skate back in the day?
Yeah, it was the mid-'80s. I was in high school when I started skating. That was Bones Brigade days. My favorite skater was Christian Hosoi. And on street it was Gonzales and Natas. That was my era.
You tried to go pro?
Nah. I used to skate contests, but I wasn't that good.
Ramp or street?
I like street best. I was a street skater. I used to do the halfpipes, but the little ones. 
I had ramps in my backyard and shit. I never tried to master ramps though, 'cause I wasn't that good at it.
You used to be a reggae DJ in Atlanta?
Yeah, back when I started off producing 
in the early '90s. I started doing a lot of dancehall remixes. This cat Paul Lewis and me had a dancehall reggae radio show on Atlanta, V103. We also had a sound system called Four Seasons. So when we was on the radio we used to do remix dancehall tracks. We would take the American hip-hop beat and put the dancehall track on top of it. That's how the whole remix thing kicked off.
Didn't you have a number one hit 
in Jamaica?
Yeah. That was our first major joint, Capleton's "Tour." It goes, "Hold on, wait a minute." That was number one in the clubs in New York and Jamaica, and my first worldwide hit record.

You've been doing it for a minute?
Yeah, man, been doing it for a minute, and now finally people starting to give me my props. I got a Grammy; I got an American Music Award, got a Source award. Finally getting some recognition.
What kind of music do you draw from to get that crunk 808 sound?
I grew up listening to everything from 
Eric B and Rakim to 2 Live Crew to NWA. And bass was real prominent in the South. Bass was the main thing that got us crunk. Then in time it became 8Ball and MJG, Three Six Mafia, Master P, Juvenile, and then it was like, "Well, that's what we get, crunk too in the club. But they ain't any people from Atlanta making crunk music who we can get crunk to." So that's how we started making crunk records for Atlanta people. We really pushed the adjective, or whatever it is, "Get crunk." We really told people to get crunk. That had never been done before. Get crunk, get rowdy, and the 
rest is history.
How did the word "crunk" come into being anyway?
Crunk is a word we be using in the South forever, as long as I can remember. The only place I can think it comes from is crank; crunk is the past tense of crank.
Jenny Crunk?
Yeeeah! Yeah, the crunk sound we made really famous. We make records in the South for the club, for people to dance to.
Similar to dancehall, really, get the girls booties shaking.
Yeah, there's a parallel. You go to a hot dancehall club in Jamaica and go to a hot hip-hop club in the South—you see the 
same thing.
What dancehall artists you feeling?
Elephant Man, that's my homeboy; we working on his album. I just did a track for Elephant Man, it's going to be his biggest track, called "Spin Your Rag." Beenie Man, Capleton, and Sizzla.
Are you planning to work with Sizzla anytime soon?
We supposed to link real soon. What I really like about Sizzla is he will get on a different type of track, so I just want to sit down with him and play him beats. He'll get on that gangsta shit, get on that rasta shit, too, feel me?
You still fuck with DJing?
The DJ never left me; every track I do is from a DJ perspective. I make records 
for DJs, records that make the club jump off. Every now and then I'll take over DJ parties. If the DJ ain't doing his job right, I'm going to tell him or run up there and take over the spot. Rock the party; I'm a party DJ. I get on the mic. Kid Capri turned me onto that. He came to a party and rocked it with the music and the mic. That took me to another level. Next day I started rocking the mic, and it became a whole 'nother game. Incredible.
What else you got going on outside of music?
I'm grinding. I got Crunk Juice, the energy drink. I'm working on this cartoon, clothing, a movie.
What's the movie about?
Me wildin' out.
You help out with Katrina victims, David Banner was out campaigning—what else Lil 
Jon do?
Crunk Juice donated $250,000. We bought people housing down there who were left homeless. We doing some things to help out, help 
our people.
Who you feeling from the West Coast?
Ice Cube for sure. His new album is just insane. People ain't even ready for that stuff. NWA, Eazy-E—now that's my shit.
How did the whole Dave Chappelle thing come around?
It was a surprise to me, my man. Dave's DJ on the show, Cipha Sounds, told me. He said, "Man, Dave does a thing on you, you got to see it." I was like, "Me?" I watched the show and I was blown away.
Get sick of people walking around saying "what, yeah, OK?"
Yeah, I just throw them a peace sign. I'm not trying to be high profile when I'm out. Maybe it's different 
after 10 shots of Patron, then I might get rowdy.
What's the favorite crunk drink of choice?
Vodka and Crunk Juice. The OG crunk drink.
Download Lil Jon songs and albums from the iTunes store
here
.
9/27/2021

The term "musical prodigy" doesn't quite capture the bass-playing abilities of Mononeon. It's more accurate to say he's one of the best to ever pick up the instrument. See for yourself.