SNFU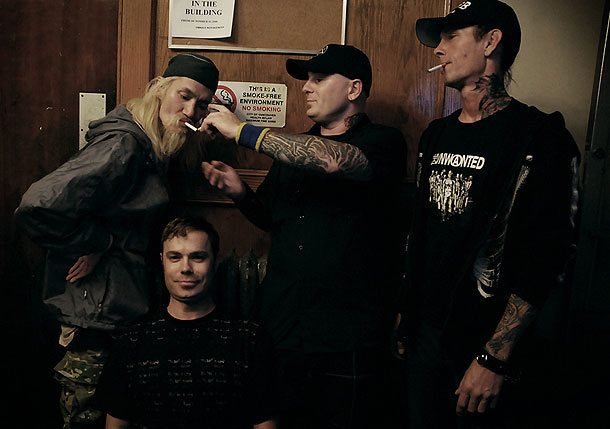 Posted: March 5th, 2009
"...if your ass was a half pipe, I'd session it."
Interview by Scott Rodriguez | Photos by Tessa Beebe
Canada's finest punk rock outfit
is back at it again, and I for one am stoked. My first experience with the hockey crazed Canucks known as SNFU was in 1986. There was a number on the back of the first album "And No One Else Wanted To Play" you could call for booking information. I called it up and left a message, three days later they called back. I was speechless. Fast forward two months, there they were, the almighty SNFU playing a show in the library at a place called the "Summit Center," a senior citizens activity center, the only place that would rent us the space. Wow! What a show.
SNFU began in 1981 and took a hiatus in 1989. They regrouped in 1991, broke up in 2005, and then reformed in 2007. The band has gone through numerous line up changes throughout the years with the energetic vocalist Chi Pig being the only constant member. Known for their energetic and fun live shows, Flipside fanzine voted them Best Live Band in 1987, beating the Red Hot Chili Peppers and Fugazi. If they hit your neck of the woods you better do yourself a favor and go see them.
I read someplace that the band started at a skatepark. Any truth to that?
Well, kind of, sort of maybe. Prior to there being any public skatepark in Edmonton, there was a ramp. We were young, like, junior high school. We would go down there every day, my brother and I. They had this half pipe; it was fucking, huge. Sixteen-feet high. My brother took it like a cock to a gay man. But, there was another sport shop on the south side, where there were all the douche bags. The skier's team, and that was the Belke's! I met them there, through the skateparks. We were too young to get into gigs, but there would be this new wave disco thing, playing Devo and whatever, and they would be there. So we kind of connected there, then we started going to gigs together. I was almost of age so I could buy them beer. I was 17 at the time.
Do you still skate?
No. But if your ass was a half pipe, I'd session it.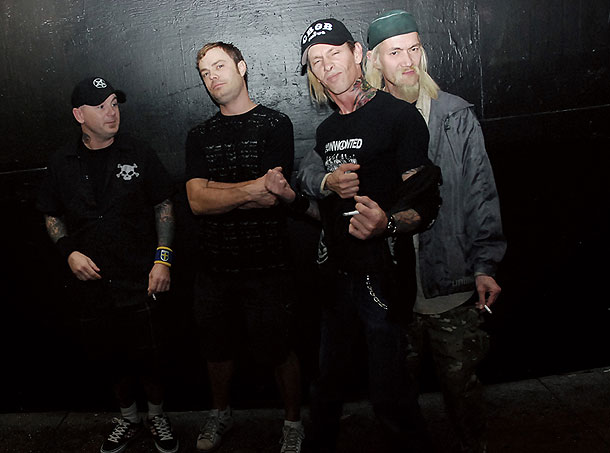 Tell us about the new members. They've all been in numerous bands. Ken was in the Unwanted, right?
We've got Denis (Nowoselski, bass), the tattoo guy, Goonie (Ken Fleming, guitar), and Shane (Smith, drums) who played with me in Slaveco and was with SNFU for In the Meantime and In Between Time. Ken was in the Unwanted, yes. Now he's not in my band, I'm in his band. It's like SNFGoon. But, there's no I in SNFU. It's more like SNFUs.

What can we expect at a SNFU show nowadays? Still the same excitement and frenzy?
Really, I'm not even going to answer that.

Talk about the upcoming tours.
We have a few shows here and there locally, and then we're doing a show down in Costa Rica. Then we're doing the Europe thing, then a big 60-day thing across Canada. I've been to all these places before, so it'll be nice to get back to a lot of these places. Whether or not I survive it physically is another story.

All of you have been touring, it seems almost non-stop, since the '80s. How's life on the road nowadays compared to the early years?
It's great to be able to wake up, buy a pack of cigarettes get some beer, some food, and that's all I need. Now, I've got my biggest, bestest bros out there with me sharing that magical thing. I've been friends with these guys for years; I mean, I've known Goonie since…1982? It's been really good with the whole camaraderie thing. We're out there together; these guys make sure that I can take care of myself, that I'm being a good boy. It's easier for me out on tour because I'm more easily distracted. It's harder with downtime; you have more responsibility so it's better when I can just do what I do, when I can do my job. I have a purpose. I've been doing this for so long this is just who I am.

I think people might like to know about all of your albums having seven word titles. Tell us the story behind that.
The first time was an accident. It was just cool, and it went along with what we were doing so we just went with it. The second time, I had made this skate poster already, and then we went out for Chinese food. I opened up my fortune cookie, and it said "It You Swear You'll Catch No Fish." I didn't make the connection at the time; I just really liked the saying. I then put it together and decided from there on every SNFU album title would be seven words long.
Does it seem that Europe is going through, for lack of better words, an '80s style punk/hardcore revival?
I don't know. I haven't been there since our last trip. Ask me later.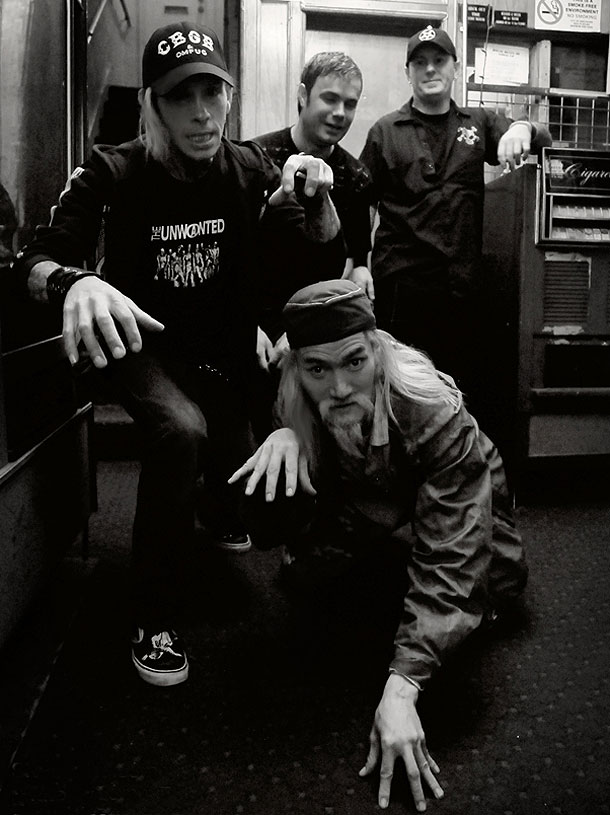 Any plans on recording with the new lineup?
We haven't had a lot of time to work on too much as of yet, but that is the goal, yes. We're working in between tours to get it together and figuring out what our next steps will be to make that happen. But, I mean, we're not going anywhere. It'll be great for Shane; he played live with us but never got a chance to record with us. So, I'm pretty excited for him. It's more of a band thing now, which is also really cool.

What are you digging for music nowadays?
With the internet I've been really reconnecting with the music I grew up with. I sold my record collection a while back so I can't go back and listen. I don't download, I only listen. And watch whatever videos I can. the Buzzcocks, the Sex Pistols, the Clash, the Dickies, Misfits. And Left Spine Down, Burn Hollywood Burn—local Vancouver stuff.

How awesome is this "Open Your Mouth and Say…Mr Chi Pig" going to be?
I'm stoked on it. My goal is to live to see it released. They approached me about a year ago; they just wanted to do it. It's all on their own dime; I mean, they're really great guys. When they asked me to do it, I liked their enthusiasm, and I said, "Good fucking luck!"

How did the documentary come about?
They're friends of the band, just a couple independent guys, and I love the fact that they're so passionate about what they do, it's really cool. We've been filming it for about a year now; it started by them just following us around on tour, hanging out and whatever. Then it progressed into interviewing friends of mine, it opened up a lot of doors. So far Jello Biafra appeared, Chuck from Blag Flag, John Kastner from the Doughboys, a bunch of old friends.

Thanks for your time, and good luck on the tour.
Skate or die, motherfuckers. I love the magazine, love all you guys, you were with us from the beginning, you brought Canadian skate punk to the United States so thank you!
9/29/2022

The music of Beirut has been featured in many skate vids over the years, most notably in Mark Suciu's "Verso" masterpiece. Mark caught up with Zach Condon, the man behind the band, in this exclusive interview.