SSS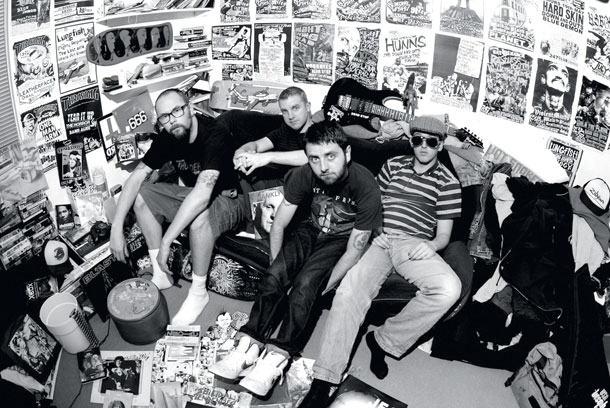 Posted: April 2nd, 2009
"...infected with the disease of playing loud, hard, and fast."
Interview by Sam Hitz
Hurl forth the thrash!
SSS (Short Sharp Shock) does just that. 
Using all the mandatory elements from skating, '80s metal, and punk, 
SSS hits it hard with tradition in 2007. The band delivers songs inspired by Hosoi, honoring Cliff Burton, and the human need for speed. But I'll just shut up here and let frontman Foxy explain.
The band all hails from Liverpool, UK? What's the overall scene like there?
Liverpool is a law unto itself. Anyone that comes to our fair city will tell yer. Ask Jim T. He's witnessed a thrash gig; brains were rattled leaving a big smile on his face. The human wreckage makes the shows in Liverpool great: skate rats, BMX art fags, hardcore kroosh-meisters, fairies, swampys, babies, brown cord types, princesses, potheads, midgets, drug fiends and straight-edge goons, town bikes, fatties, skinnys, long hairs, short hairs, and no hairs! Loads of new bands are crawling out of the River Mersey. There's definitely something in the water here; they all get infected with the disease of playing loud, hard, and fast.
Have the local skate rats affected or changed the music scene in any way?
They were all a bit quiet and sitting down at the back at first. Getting stuck into the beer, they are a law unto themselves! They beg, borrow, and steal records, digest them, and spew out a great wall of noise, sideswiping the herd with the bands they spawn. They're the future; got to bring them up the right way. DIY to the max, making their own shirts, organizing shows, borrowing mum's car, 
and getting to out-of-town gigs and skateparks. They've learned the ropes, now go forth and prosper.
What do you play with at home?
We're a round peg in a lot of square holes. We float between all kinds of music genres, which is a really good thing. Who wants to play with the same styles all the time? Thrash is pretty much universal, everyone likes to bang their heads and slam their fists. We have rubbed shoulders with the likes of Exodus, Make Believe, Bones Brigade, Propagandhi, Annihilation Time, Strike Anywhere, Fucked Up, Napalm Death, Gang Green, Raw Power, Sick of It All, our main man Frank Sidebottom, and of course our thrash brothers in arms Municipal Waste. The UK has some sick bands as well, they all got them MySpazz pages so check out Cold Ones, Down and Outs, the Horror, the Plight, Gentlemens Pistols, Evile, Hot Club de Paris, Voo, Self Destruct, Bendal Interlude, Deal With It, Hammer Attack, and Bow and Arrow. Swing your pants or bang your head, the choice is yours.
What's up with the roller coaster addiction, Foxy?

What do you mean "addiction"? First off, it's wood coasters all the way. There's no steel appeal for me! Chain link rattle to the point of no return, then it's all downhill with hands up all the way. Everything about amusement parks I love: the sights, the sounds, the food, the smells, bright lights, and of course the rides. Massive constructions looming out of the ground, breaking rocks, and bursting through the trees like Godzilla with a rattling throaty roar. Sick. Just how we travel all round the world to a skate spot or play a show—
that's how it is with coasters. Scoping what killer wooden beasts are in the neighborhood and ticking them off the hit list. Here's my top 10: (1) the Phoenix, Elysburg, PA (old-school park and airtime king!), (2) the Beast, Cincinnati, OH (we wrote a song about this killer), (3) Grand National, Blackpool, UK (killer humps that will rip you out of your seat!), (4) Son of Beast, Cincinnati, OH (wood with a loop!), (5) Shivering Timbers, Muskegon, MI (a mammoth of a coaster!), (6) Giant Dipper, Santa Cruz, CA (A classic coaster with a sick '80s arcade next door in Neptune's kingdom), (7) the Texas Giant, Arlington, TX (one word: relentless), (8) the Comet, Lake George, NY (100 continuous rides in 2002), (9) Meanstreak, Sandusky, OH (great before trim breaks added, plus an all-girl thrash band named after it), (10) Thunderbolt, West Mifflin, PA (old as the hills, and the lights on the cars work).
The instrumental tracks on the album really rip. They have killer skate titles like "OJ Skyrkts" and "Gearin' Up for 
Getting Down." Anyone who could recognize those titles would be stoked! 
Is the skate reference just a go-to thing or 
is there more to it?
The purpose of those songs was to harness the lightning that skateboarding holds for me. Getting a new skate video as a kid, digesting everything, and being stoked on what you see and hear is the best. The music in those video parts amps you up, gets the blood and adrenalin flowing. Everyone knows this if their weapon of choice is a skateboard! Dropping into vert and screaming "My War!" by Black Flag or the pick slide to Bl'ast!'s "It's in My Blood" as you roll into a pool or styling around the schoolyard slapping curbs with the Minutemen's "I Felt Like A Gringo" in your head. Sick! Hosoi kills it! Always flying high, and thus "OJ Skyrkts" was the wheel I rode many a set of. Blender does his own thing, a total individual. How much art can you take? Lots, in my case. Music pushed me further to achieve more in skating and my life than anything else ever has. Both songs were written to conjure up long hot endless summers of barking wheels and scabby knees.
The song "Hallowed Grey" is about concrete. You guys ever get dirty, throw some mud around, and build something shitty to skate?
Just finished some 'crete at the end of my street. The local authorities had just asked us to be involved in designing and constructing a new skatepark. A lot of the kids wanted some street bollocks. That got backhealed, and we built a Mickey Mouse-shaped bowl instead, plus a nice extension topped with some pool coping. We went down there every single day to make sure that it got built right, helping the contractors so they didn't balls it up. They did a good job. 
We're going to do a video for "Hallowed Grey" filmed in the deep end.
Download SSS songs or albums from the iTunes store
here
or check out their
myspace
for upcoming shows.
7/13/2020

The Shrine's raw new music vid pushes back on the American Dream in LA and helps give funds to protestors for legal aid. Bump this on your next bowl session.