The Zeros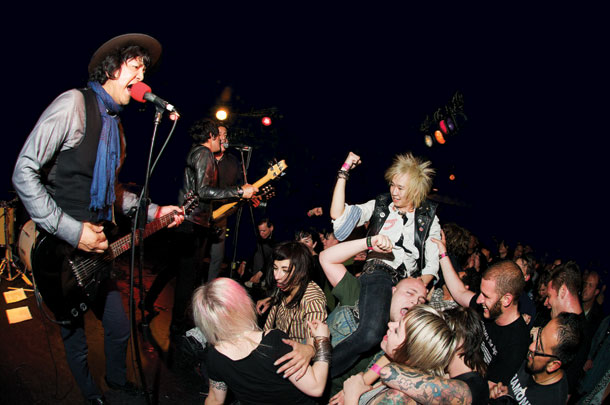 "The manager said, 'Nobody's ever done that in the history of The Fillmore'"
Interview & Photo: Jordan Joseffer
The Zeros have always been one of those bands
that, when you hear them, you can't help but feel good.
Don't Push Me Around
is a classic album that often stays on repeat until all the lyrics are memorized. They started 
out as bored teenagers, but have stayed interesting for over 33 years. 
The band is Javier Escovedo, Robert Lopez, Hector Penalosa, and 
Baba Chenelle. I recently spoke to the guys, excluding Robert, who had previous commitments as an Elvis impersonator.
How'd you get the name The Zeros?
Javier: We were trying to think of a name because we were about to play the Orpheum Theater. Somebody said, "What about the Heros?" Then somebody else said, "What about the Zeros?" Everybody thought it sounded good.
How did you guys meet each other?
Baba: I met Hector during junior high in 
Chula Vista, CA. We were playing soccer against each other and I started talking to him.
Hector: We liked the same bands. He was learning how to play drums and I was still learning how to play guitar. We'd get together and try to make something out of it, but we just ended up scaring the neighbors. It got better and better, and they stopped complaining.
Javier: I moved down to Chula Vista for high school, where I met Baba's cousin and Robert's sister. She introduced us.
How old were you guys then?
Javier: Baba was 16. Robert and Hector were 17, and I was 18.
There wasn't any punk when you guys started. What were you listening to?
Javier: Glitter rock at first, and then the Velvet Underground, Bowie, the Stooges, MC5, 
New York Dolls—bands that were considered punk but weren't called punk, basically.
Hector: Some '60s garage rock bands like the Standells, the Seeds. Everyone threw in their own influence—even the Beatles and Kiss.
Baba: I was listening to Kool and the Gang stuff. When I hung out with my cousin, we'd listen to his records.
In '77 you described punk as music for young people with a young attitude. 
Do you still feel the same way?
Baba: Old people with old attitudes.
Javier: We try to remain true to the way we were when we first got together. We haven't really embellished anything.
Hector: People always ask us if we're going to make a new recording, and honestly, what we're doing is what the public wants and we're happy with that. We like playing the songs; they still feel great to play and they still sound good.
Your first show was also the Germs' first show. What did you think of them?
Javier: They were more interested in the show aspect. We'd been together longer and had been practicing a lot longer, so we were kind of coming at punk from a different angle.
Hector: They were all about the broken peanut butter jar on the floor and rolling around.
How did you get on a daytime talk show?
Javier: Robert's father worked at the TV station, and they asked if we wanted to be on the program called "Sun Up." They wouldn't let me wear sunglasses and they wouldn't let us play live.
So you guys had to lip-sync it.
Hector: Yes, because the director said the cameraman wouldn't be able to hear his directions otherwise. It turned out that the show was aired at 8 in the morning to a bunch of senior citizens who had nothing to do but watch TV.
I heard you had a set in SF where you just played "Beat Your Heart Out" eight times.
Baba: I did. We had some problems getting the whole band there. We needed the money because we were going up the coast, and we needed gas and stuff. The promoter came up to me and said, "Look, if you can just give me a set for this amount of time, I'll get you paid and get you food and free drinks." I go, "Free drinks!" The other band helped us out. They had the single with "Beat Your Heart Out" on it, and they knew how to play the song. So we got on stage and just played the song over and over for a full set. Then they wanted an encore, so we came back out and did it one more time. After the set the manager from the Fillmore asked to speak to me in the back. I thought he was going to be pissed and kick our asses. The he asks, "Can I have the set list?" 
It just had "Beat Your Heart Out" written on it eight times. He said, "Nobody's ever done that in the history of The Fillmore."
How do you guys feel about being referred to as the Mexican Ramones?
Javier: We thought it was kind of lazy journalism. The thing that bugged me was that the Ramones didn't influence us at all. The New York Dolls, the Velvet Underground, the Standells, and the Seeds influenced us. I never listened to the Ramones 
and said, "I want to start a band." I listened to the New York Dolls and said I wanted to start a band.
Hector: If you listen to us and the Ramones, it's apples and oranges. We were already a band 
when the first Ramones record came out.
How does it feel to still be doing this after more than 33 years?
Baba: I was worried at first that kids were going 
to think we were too old. But a lot of kids come 
up with the first single and ask us to sign it.
Hector: There's no regrets. We've been able to travel to far-away places. What's nice is when we get the younger kids who tell us that our record made them want to play music and pick up a guitar. It's pretty cool, man.
9/22/2020

After millions of album sales since the mid-90s, Third Eye Blind frontman Stephan Jenkins continues to make music without compromise or concern about radio hits and pop charts. He features Cher Strauberry in his newest video and she sat with him for an interview.