Amebix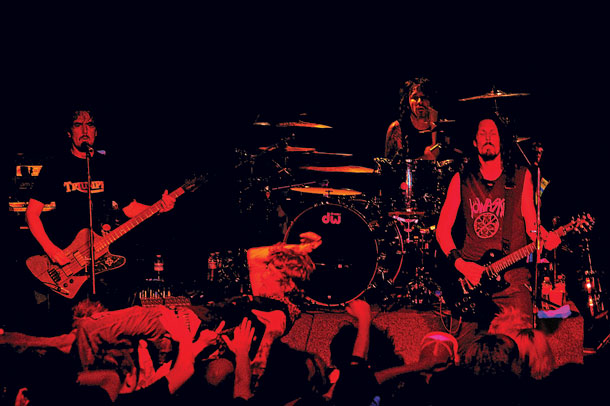 "Directionless people are malleable—easily pointed in the wrong directions"
Interview: Xander Dunlap | Photo: Pod
Amebix is one of those legendary bands
from the '80s that everyone wished they could see and never thought they would—but the punk legends from the UK, sometimes categorized as anarcho or crust, finally and unexpectedly made it to the US. They played their creative variety of slow, heavy, fast, and emotionally-packed music that deserves more credit than four generic adjectives, and even a terrible Portland venue couldn't fuck this one up with their high prices, shitty sound, no reentry policy, and wannabe paramilitary bouncers giving the old airport shake down—in sum—creating the all too common limited liability live entertainment internment camp. Punk venue malcontents aside, Amebix is exceptional in more ways than one; here's how Baron and Stig, from the Isle of Skye, 
off the West Coast of Scotland, took on some questions.
What caused the group to start playing together again?
Baron:
A series of circumstances, which had to do with looking at things retrospectively and trying to end the Amebix story. Capping it off and saying, "Alright, we'll make a definitive documentary about this band and tell everyone what it's about," because there had been some mystery. We needed to give people something to bite on a bit more. There was very little available for people until recently, when we ended up putting together this material with Roy Wallace on Belfast records. We thought, "As a history, this looks great." Roy suggested, "Maybe you should try to re-record some of the other tracks." I said, "No fucking way." 
One reason being Spider couldn't do the drums. But then we heard that Roy Mayorga had been interested in the band since his days in Nausea. We gave him a call, and he said, "Yeah, I'm on the next plane." We all got into a room together and it went bing-bang-bomb. First take of the first song and we're all staring at each other, like, "Oh fuck, what do we do now?" What do you do when it comes together like that?
Stig:
It was one of those things that was too good to waste. Roy is such a fucking great drummer and a nice guy; he was the proper gentleman to deal with, so fucking why not?
What is the overall message that 
Amebix promotes?
Baron:
Empower yourself, rise above the difficulties. Realize your own personal destiny, and you can fulfill that in whatever way you wish. Be yourself, be true. It still applies today.
Stig:
We are living in a society where there is 
no will, there is no direction. People just walk along and do as they're told. You see kids 
and they don't understand the things we've 
been through, the things we've done. It's directionless, and directionless people are malleable—easily pointed in the wrong directions. People need to think for themselves.
Baron:
We rose above the things that were around us at that time, and we really tried 
to motivate the people in our scene at that time, trying to take them away from that downward spiral and saying, "C'mon, you can fuckin' do this."
So the squatter kids and the crusty life-style, which more often than not heads in the direction of excessive 
drug use?
Baron:
People are self-indulgent. You leave them to their own devices and they tend to spiral downwards. So you ask, "What are you doing?" You don't have to follow another sub genres' set of rules; just do your fucking own thing and be true to yourself.
Stig:
We aren't trying to be proselytizing in that sort of way. We aren't trying to take you out of your outfit and tell you, "This is the way." It's up to you; this is just an idea.
I read in your section of the book The Day the Country Died: History of Anarcho Punk 1980–1984 that you had written to Venom. Any words about that?
Baron:
We used to get all the pre-released metal stuff from this independent record shop. They hated that shit, so they gave it all to us. I got all the first pressings of
Melissa, Don't Break the Oath
—really fucking great records. Then we got the single "In a League with Satan." We thought it was the funniest thing we had ever heard; 
we didn't realize they were actually serious. Gave us a good laugh, so we wrote them a letter, like, "Venom, this is really, really funny. Cheered us up endlessly, here's our record." What I'm going to tell you now is a bit controversial. 
I got a letter, literally from Abaddon, and he said explicitly: "Thanks man, for the letter. We'll rip you off." Next thing you know,
Black Metal
came out. We liked what they did, but if you listen to "In a League with Satan," it's just a rock song. It isn't the Venom that we know from afterwards, but Cronos was apparently an Amebix fan. He was a lovely guy—he was punk rock, and you can hear that. They were just a slightly-evolved punk band in a funny way. When people say that Venom was an influence on Amebix, they're entirely wrong.
Who's been your favorite band to 
travel with?
Baron:
The guys from Severed Head of State, and
Annihilation Time
, but it's been really nice playing with all the bands. One of the best thing about playing in the band these days is that we aren't 
in competition with anyone, and nobody is in competition with us. The guys we're playing with are playing different stuff, and Amebix is Amebix, so everybody is happy and here for each other and having a great time.
Stig:
This reaffirms my faith in the possibilities inherent in punk rock. We aren't like we use to be, when we just practiced a couple of times a week in the squat, then went, "Alright, time to go or get kicked out," go to a show with a ton of people with some cider, glue, speed, heroin, and get on the stage fucked up. We'd have a good time, but now we're trying to hold it down a bit.
6/05/2023

The music of Beirut has been featured in many skate vids over the years, most notably in Mark Suciu's "Verso" masterpiece. Mark caught up with Zach Condon, the man behind the band, in this exclusive interview.