Junk Drawer
8/31/2018

Nyjah goes Euro at the Salton Sea while Axel crushes the Nude Bowl. Real parties down with Nora before K Walks busts the biggest gap of the season. See all the extra tricks too hot for TV! Fast, raw and free worldwide.
9/21/2018

To say the Santa Cruz squad is stacked is an understatement. This vid showcases some soon-to-be household names, as well as the OGs. Now sit back and enjoy this feature presentation...

9/21/2018

Santa Cruz's new video, Chris Joslin's new shoe, Tom Knox footage and more in today's episode of Skateline.

9/21/2018

We got a few words with Tommy Guerrero to talk about his musical side.

9/21/2018

Watch the all-kill, no-fill version of the big Game of Stoke meet up. Dirtboard insanity and the Mystery Guests show up to wreck shop. Plus, hella extra tricks you won't see on the TV show. Free now, worldwide!

9/21/2018

He bodied his recent video part in DC's Street Sweeper release, so let's dip behind the scenes for an up-front experience.

9/21/2018

Mr. Margera rejoins his Element comrades for a lil' KOTR action. Heck yeah there's room in that coffin for two! Watch the new episode Tuesday night at 9 pm on Viceland. And check the list for a viewing party near you.

9/21/2018

Henry enters into battle with Goliath, takes his fair share of bumps and bruises, but ultimately emerges victorious. This is truly savage stuff.

9/21/2018

Chima and Little Nicky enter the MVP race this week with some sick stair work. That said, Evan Smith is on a KOTR war path like no other. All bets are off with Starheadbody.

9/21/2018

The CPH OPEN crew landed in Amsterdam for a day, packed a couple river boats, and hit all the city's spots, ending with the infamous death race at NOORD skatepark.

9/21/2018

Ladies love him, handrails hate him! Axel Crusher made a big splash on Season 1 and now he's back to help his Foundation bros go big.
In The Mag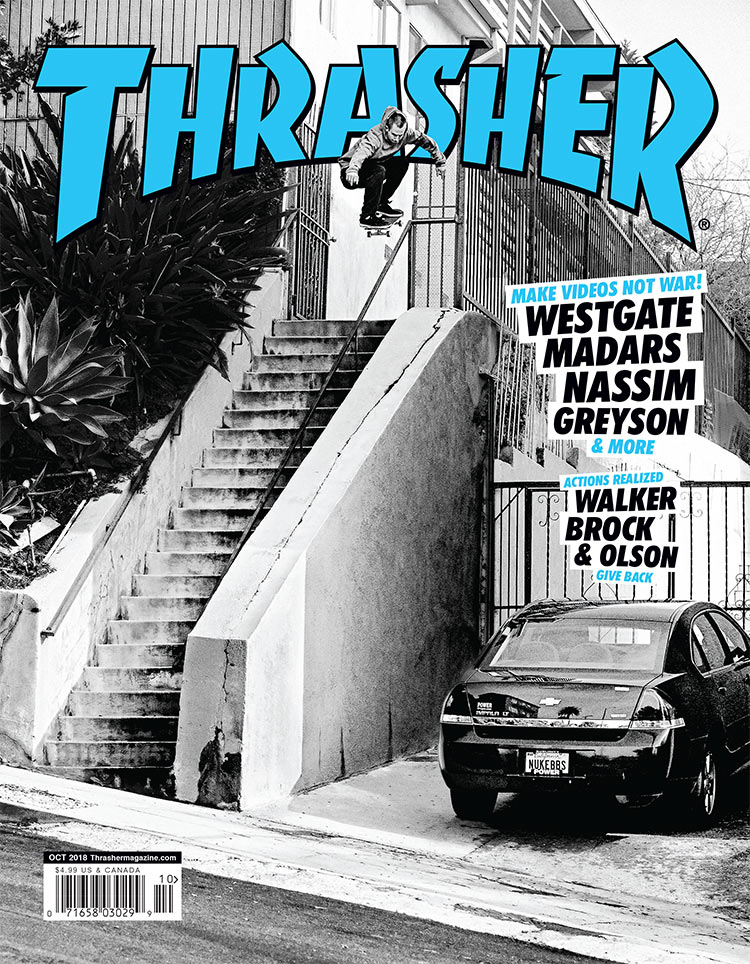 Outta the bog and straight into the fire, Brandon Westgate scorches onto the October 2018 cover with an ollie to perilous plank ride. More W-Gate inside by way of a feature interview—all handsomely shot by masterlensman Brian Gaberman—as part of a behind-the-scenes look at Element's newest video offering, Peace. Nassim, Jaako, Madars and Julian Davidson all get grilled, too. This vid is gonna be HEAVY! In tales of travel, REAL took their Actions Realized efforts to Chicago, Detroit, Providence and Taunton, MA, spreading the stoke and doing good deeds along the way. Circle-F-wise, Corey Glick and Dakota Servold both have interviews, letting you know that the new Foundation vid will be absolutely bonkers (as they always are). And if you're sick of low-impact curb dancing, have no fears—Nuke Baby is here to make sure those drops stay high and the rails stay kinked! Hope you're done with your homework because this one's gonna take over your life. Add this one to your collection.