Junk Drawer
9/12/2018

Nobody's a loser on this thing, but only one team can be crowned King of the Road! Real, Element and Foundation battle the f--ked up fire rail before reuniting for the big awards show. Highest, longest, most? MVP? A new pro? All is revealed! Watch now (US only.) Free Webisode on Friday. Thanks for another epic season, everybody!
9/23/2018

Lizzie does the loop, Polar's video, Wade vs Ishod and more in today's episode of Skateline.

9/23/2018

We've given you dosages of the Worble crew over the last few days, but now it's time for you to experience the full trip. These dudes are on one...

9/23/2018

The coals were on all day and deep into the night at Lower Bobs with plenty of flappin', sippin' and revin' up in honor of our beloved homie, P-Stone.

9/23/2018

Get to know the men of madness and then click play on that Foolish Behavior vid again. Tranny tyranny at its finest! Skateboarding and insanity have always gone hand in hand.

9/23/2018

Dave is fully unhinged, launching off buildings, unearthing the sketchiest spots imaginable, and somehow making it look relatively painless.

9/23/2018

A surprise bounty sends Real to The Wedge. Luckily Zion found a giant rubber band! Watch the entire episode Tuesday at 9 pm on Viceland. Check the list for a viewing party, too. Only two more episodes left!

9/23/2018

Nyjah goes Euro at the Salton Sea while Axel crushes the Nude Bowl. Real parties down with Nora before K Walks busts the biggest gap of the season. See all the extra tricks too hot for TV! Fast, raw and free worldwide.

9/23/2018

Part man, part ramp, but 100% savage. The world needs more of this guy.

9/23/2018

When Preston picked up a video camera, skateboarding changed forever. He wasn't a typical filmer, but an extension of the whole crew, his contagious energy fueling a session to new heights. Let's take a trip down memory lane with one of the Big Dog's early full-length vids. Enjoy the stoke...

9/23/2018

Chris cooks up some more enchanting Worble magic, discovering lines the rest of us would never uncover. The world is a playground; skate accordingly...
In The Mag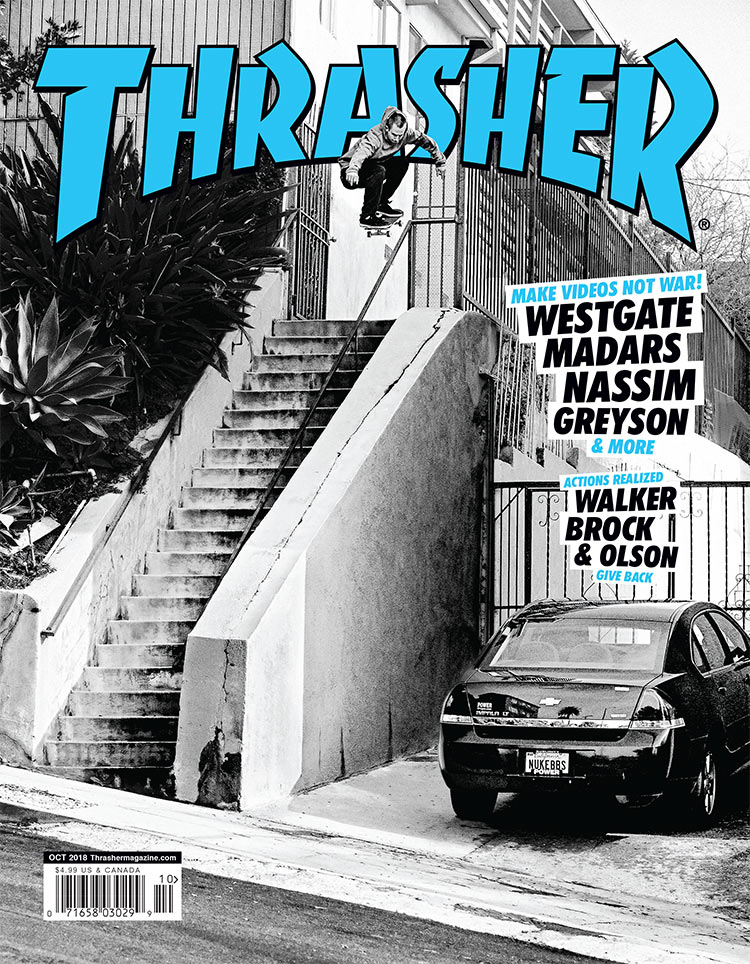 Outta the bog and straight into the fire, Brandon Westgate scorches onto the October 2018 cover with an ollie to perilous plank ride. More W-Gate inside by way of a feature interview—all handsomely shot by masterlensman Brian Gaberman—as part of a behind-the-scenes look at Element's newest video offering, Peace. Nassim, Jaako, Madars and Julian Davidson all get grilled, too. This vid is gonna be HEAVY! In tales of travel, REAL took their Actions Realized efforts to Chicago, Detroit, Providence and Taunton, MA, spreading the stoke and doing good deeds along the way. Circle-F-wise, Corey Glick and Dakota Servold both have interviews, letting you know that the new Foundation vid will be absolutely bonkers (as they always are). And if you're sick of low-impact curb dancing, have no fears—Nuke Baby is here to make sure those drops stay high and the rails stay kinked! Hope you're done with your homework because this one's gonna take over your life. Add this one to your collection.