Junk Drawer
9/08/2018

Jed charges at everything in his path, leaving Canadian concrete quaking in his wake. Full. Speed. Ahead! This part is badass.
9/24/2018

Atiba sat down to talk about the many layers of life and music with Stephen Malkmus.

9/24/2018

Some dudes get jaded with time. Kalis is three decades deep and yet loves skating more than ever. Here he checks out the new mag which features his first Thrasher cover. Hoag joins with the assist.

9/24/2018

Ms. Armanto goes where no skateboarding woman has gone before – all the way around Tony Hawk's notorious loop. Though many have tried, many more have gotten spat out in spectacular fashion. We caught up with Lizzie to hear about her mental and physical battle with skateboarding's most terrifying terrain. Congrats, Lizzie! – Michael Burnett

9/24/2018

With a quick-footed approach and a unique eye for spots, Hiroki's Tone part is pure street stoke. And holy hell! The last two clips are mind bending. WTF!?

9/24/2018

While the other dudes suffer in the desert, Real gets the Nora V treatment – mimosas, karaoke, ribbon trains ... all that good sh–t! Watch the complete episode Tuesday at 9 pm on Viceland. Check the list for viewing parties, too!

9/24/2018

With a nod to Jeremy Klein, the WKND boys hit the road Hook Ups style and put together a launch-ramp-infused tour, complete with a box for the top of the van and Willy Santos in tow. It's called skateboarding. It's supposed to be fun.

9/24/2018

Evan continues his onslaught and K Walks goes Zero Sunday with Jamie Thomas on board. Then there's Dakota's bent-ass rail of death. Heavy week!

9/24/2018

If Dustin Dollin is signing your checks you sure as hell aren't gonna turn in any soft footage. This PD Promo is hard as hell.

9/24/2018

After smashing his grill, Jaws rejoins Real for a heavy handrail day with Jamie Thomas. Tyson goes for the biggest rail of all time while Nick and Madars torture their bros with megaphones. Big tricks in this one! Watch now (US only.) Webisodes (free worldwide) on Friday.

9/24/2018

No soundtrack, just the sights and sounds of two comrades creating majestic moments on their skateboards.
In The Mag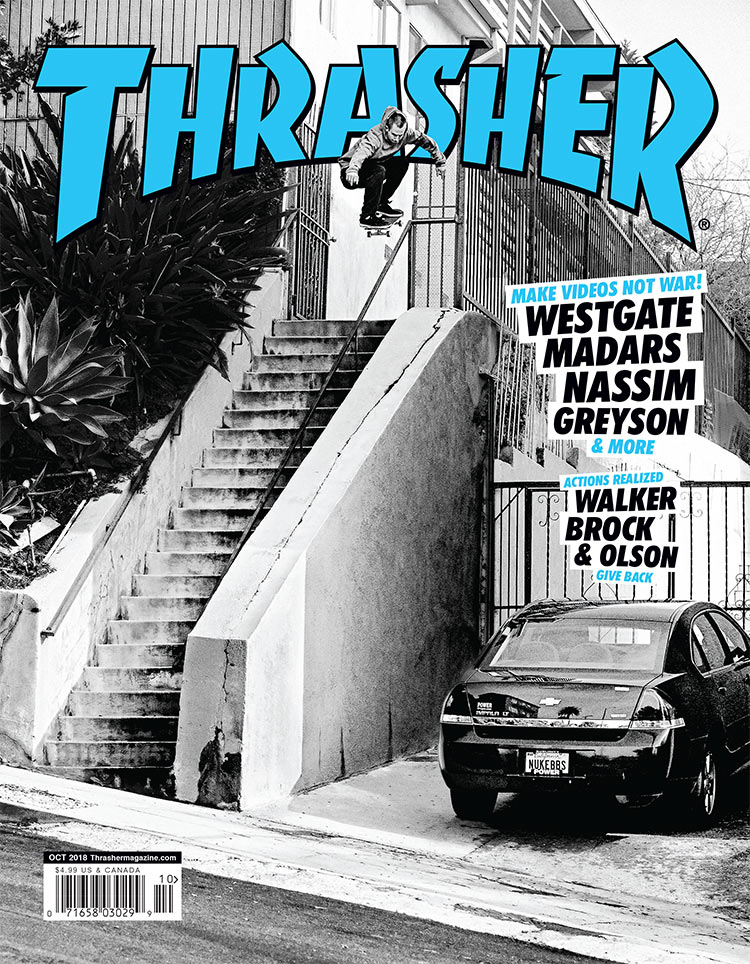 Outta the bog and straight into the fire, Brandon Westgate scorches onto the October 2018 cover with an ollie to perilous plank ride. More W-Gate inside by way of a feature interview—all handsomely shot by masterlensman Brian Gaberman—as part of a behind-the-scenes look at Element's newest video offering, Peace. Nassim, Jaako, Madars and Julian Davidson all get grilled, too. This vid is gonna be HEAVY! In tales of travel, REAL took their Actions Realized efforts to Chicago, Detroit, Providence and Taunton, MA, spreading the stoke and doing good deeds along the way. Circle-F-wise, Corey Glick and Dakota Servold both have interviews, letting you know that the new Foundation vid will be absolutely bonkers (as they always are). And if you're sick of low-impact curb dancing, have no fears—Nuke Baby is here to make sure those drops stay high and the rails stay kinked! Hope you're done with your homework because this one's gonna take over your life. Add this one to your collection.