Junk Drawer
9/09/2018

With quick feet, big snaps and a heavy sack of tech moves, Evan tackles Toronto, unlocking spots with surgical precision.
9/20/2018

With Jaws down for the count, Kyle Walker goes SOTY on Nick Dompierre's infamous second-story gap of death!

9/20/2018

International globetrotter Marius Syvanen lands in North Africa, shreds some sweet spots with his squad and helps put the finishing touches on a new skatepark. Solid trip!

9/20/2018

Atlantic Drift in the Pacific, Steve Mull's Worble part, WKND tour and more in today's episode of Skateline.

9/20/2018

We mashed up music and skating to create the Death Match back in 2010. Now we're taking the party beyond Austin, Texas. October 5th and 6th we're bringing the noise to New York. See you there.

9/20/2018

Zion goes big and Kwalks goes bigger on a gnar day out with The Chief. Tyson jumps in the fire on Elmendorf's rail while the F Troop starts celebrating. All kill, no fill with hella bonus tricks you won't see on the TV series. Watch now!

9/20/2018

Atiba sat down to talk about the many layers of life and music with Stephen Malkmus.

9/20/2018

Some dudes get jaded with time. Kalis is three decades deep and yet loves skating more than ever. Here he checks out the new mag which features his first Thrasher cover. Hoag joins with the assist.

9/20/2018

Ms. Armanto goes where no skateboarding woman has gone before – all the way around Tony Hawk's notorious loop. Though many have tried, many more have gotten spat out in spectacular fashion. We caught up with Lizzie to hear about her mental and physical battle with skateboarding's most terrifying terrain. Congrats, Lizzie! – Michael Burnett

9/20/2018

With a quick-footed approach and a unique eye for spots, Hiroki's Tone part is pure street stoke. And holy hell! The last two clips are mind bending. WTF!?

9/20/2018

While the other dudes suffer in the desert, Real gets the Nora V treatment – mimosas, karaoke, ribbon trains ... all that good sh–t! Watch the complete episode Tuesday at 9 pm on Viceland. Check the list for viewing parties, too!
In The Mag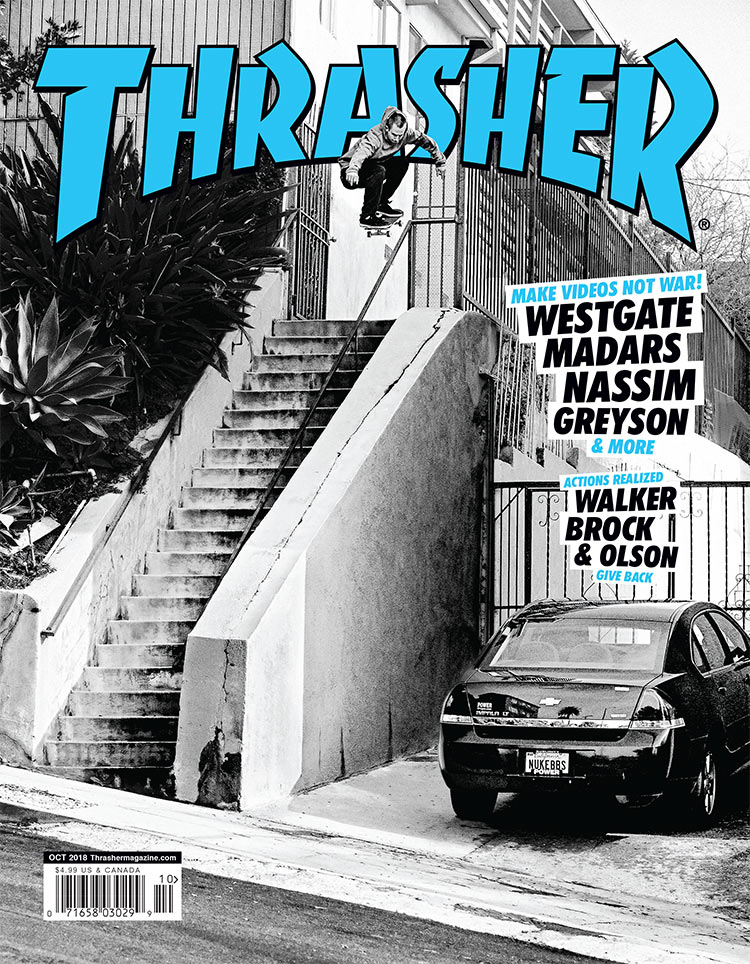 Outta the bog and straight into the fire, Brandon Westgate scorches onto the October 2018 cover with an ollie to perilous plank ride. More W-Gate inside by way of a feature interview—all handsomely shot by masterlensman Brian Gaberman—as part of a behind-the-scenes look at Element's newest video offering, Peace. Nassim, Jaako, Madars and Julian Davidson all get grilled, too. This vid is gonna be HEAVY! In tales of travel, REAL took their Actions Realized efforts to Chicago, Detroit, Providence and Taunton, MA, spreading the stoke and doing good deeds along the way. Circle-F-wise, Corey Glick and Dakota Servold both have interviews, letting you know that the new Foundation vid will be absolutely bonkers (as they always are). And if you're sick of low-impact curb dancing, have no fears—Nuke Baby is here to make sure those drops stay high and the rails stay kinked! Hope you're done with your homework because this one's gonna take over your life. Add this one to your collection.