Junk Drawer
9/21/2018

Jeff catapults himself off the top rope at Hollywood High like a true NUKE BABY—as seen in the pages of our October issue.
9/25/2018

Monday night, skateboarding's elite arrived in downtown LA for the premiere of Mid90s—Jonah Hill's directorial debut. Check out some photos here.

9/25/2018

Arguably the best skateboarder of his generation by far, Marc Johnson drops another fat sack on y'alls tonsils with his new Business & Company board brand. Company owners need to fear this dude now. He's coming for the throat and he's had 24 years to sharpen the knife. It's gonna be fun! –Anonymous

9/25/2018

Pedro Delfino's Deathwish part, Daewon skate curbs, Element wins King of the Road and more in today's episode of Skateline.

9/25/2018

Embark on this photographic journey through the most insanely sane skateboarding event on Planet Earth.

9/25/2018

Fire rail insanity as the teams reach the end of the line. Zion shines and Cole gets scorched — then it's off to see the winners! Free worldwide. Congrats Element!

9/25/2018

Shakey Graves discusses his new album, his hardcore roots, bombing parking garages and why it's important to keep evolving as an artist. This is a good read with a rad dude.

9/25/2018

Cam attacks the sketchiest of spots with plenty of power, disregarding bunk run-ups, cracks and all other forms of peril. We approve.

9/25/2018

Phil brought his blitzing approach to skateboarding Stateside, exploring some of the lesser known patches of concrete in the middle of the American expanse. This is a fantastic edit.

9/25/2018

WKND skateboards held what we would call a flash-mob video premiere. Check out some photos here.

9/25/2018

Meet Alex Schmidt and Trevor Thompson, the newest residents of the Sir Palmer Apartments, WKND's multi-unit skate house in LA. From the Sept. '18 issue of the mag. Then click that vid, kid!
In The Mag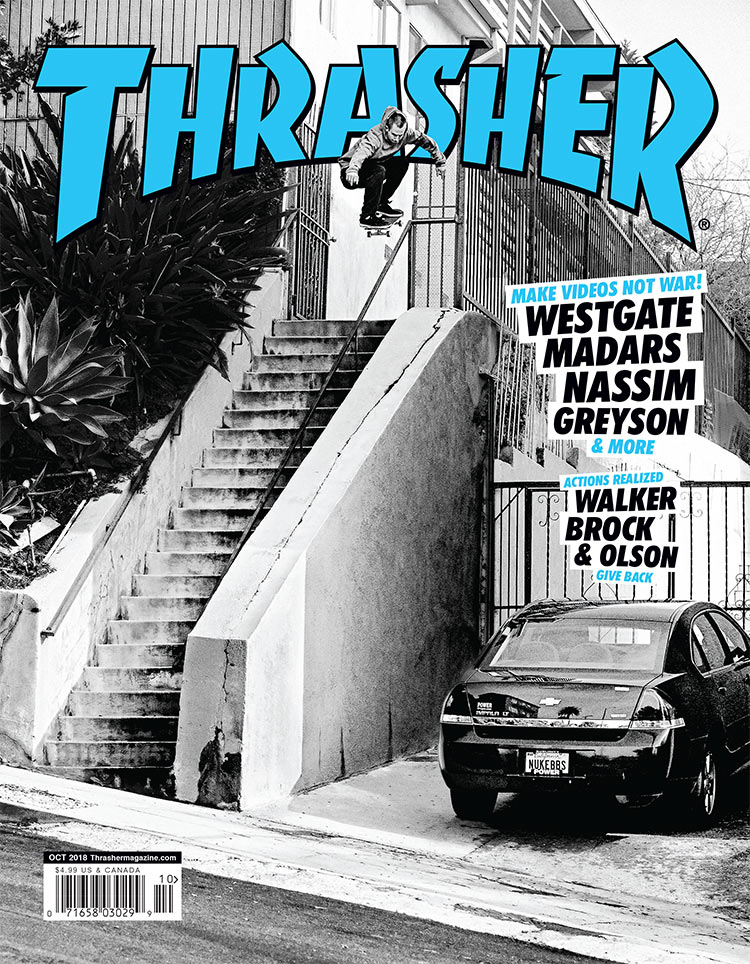 Outta the bog and straight into the fire, Brandon Westgate scorches onto the October 2018 cover with an ollie to perilous plank ride. More W-Gate inside by way of a feature interview—all handsomely shot by masterlensman Brian Gaberman—as part of a behind-the-scenes look at Element's newest video offering, Peace. Nassim, Jaako, Madars and Julian Davidson all get grilled, too. This vid is gonna be HEAVY! In tales of travel, REAL took their Actions Realized efforts to Chicago, Detroit, Providence and Taunton, MA, spreading the stoke and doing good deeds along the way. Circle-F-wise, Corey Glick and Dakota Servold both have interviews, letting you know that the new Foundation vid will be absolutely bonkers (as they always are). And if you're sick of low-impact curb dancing, have no fears—Nuke Baby is here to make sure those drops stay high and the rails stay kinked! Hope you're done with your homework because this one's gonna take over your life. Add this one to your collection.