Junk Drawer
9/13/2018

Phil brought his blitzing approach to skateboarding Stateside, exploring some of the lesser known patches of concrete in the middle of the American expanse. This is a fantastic edit.
9/20/2018

Paranoia takes over when Jaws accidentally sends Real's book to Foundation. What goes in the book, stays in the book!

9/20/2018

Gilbert weighs in on his formula for sanity, balancing inspirations, and why he chooses to stay rooted in Richmond, Virginia.

9/20/2018

Crockett is one of skateboarding's great treasures. Whether he's spinning some manual magic or jumping on them bars, the style is all his own. This is a great video part.

9/20/2018

Ish Cepeda and Tyson Peterson crack open the October'18 issue and weigh in. These dudes are on one.

9/20/2018

Corey Glick turned pro for Foundation Skateboards at Active Long Beach the other day. It was disguised as a team signing/newlywed gifting for Aidan Campbell and Cole Wilson. If you've been keeping up with Corey, you know he's been smashing things up on King of the Road and his pro model is well deserved. Congrats, Corey!

9/20/2018

Lizzie does the loop, Polar's video, Wade vs Ishod and more in today's episode of Skateline.

9/20/2018

We've given you dosages of the Worble crew over the last few days, but now it's time for you to experience the full trip. These dudes are on one...

9/20/2018

The coals were on all day and deep into the night at Lower Bobs with plenty of flappin', sippin' and revin' up in honor of our beloved homie, P-Stone.

9/20/2018

Get to know the men of madness and then click play on that Foolish Behavior vid again. Tranny tyranny at its finest! Skateboarding and insanity have always gone hand in hand.

9/20/2018

Dave is fully unhinged, launching off buildings, unearthing the sketchiest spots imaginable, and somehow making it look relatively painless.
In The Mag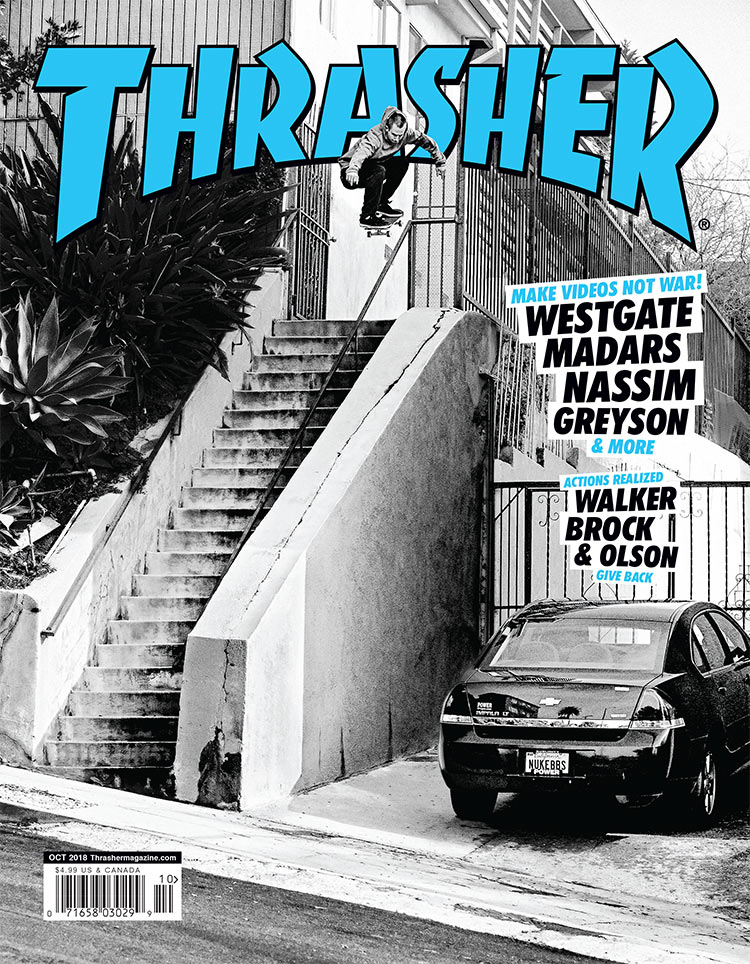 Outta the bog and straight into the fire, Brandon Westgate scorches onto the October 2018 cover with an ollie to perilous plank ride. More W-Gate inside by way of a feature interview—all handsomely shot by masterlensman Brian Gaberman—as part of a behind-the-scenes look at Element's newest video offering, Peace. Nassim, Jaako, Madars and Julian Davidson all get grilled, too. This vid is gonna be HEAVY! In tales of travel, REAL took their Actions Realized efforts to Chicago, Detroit, Providence and Taunton, MA, spreading the stoke and doing good deeds along the way. Circle-F-wise, Corey Glick and Dakota Servold both have interviews, letting you know that the new Foundation vid will be absolutely bonkers (as they always are). And if you're sick of low-impact curb dancing, have no fears—Nuke Baby is here to make sure those drops stay high and the rails stay kinked! Hope you're done with your homework because this one's gonna take over your life. Add this one to your collection.