Junk Drawer
9/17/2018

If you're in the Bay Area this weekend join Real skateboards at the Treasure Island DIY for a skate jam and Out of Sight premiere, a 40-minute documentary about the crew that built the spot. Free food and live bands. Fuck yes!
9/20/2018

Babies, dads and newlyweds in this one. Plus Axel, K Walks and Zion save their biggest moves for last. Free worldwide, just like in 2005! GTWYC!

9/20/2018

Jed charges at everything in his path, leaving Canadian concrete quaking in his wake. Full. Speed. Ahead! This part is badass.

9/20/2018

The squad stirs the pot and sets the tone before Zander Mitchell steps to the plate and knocks this baby outta the park.

9/20/2018

He's been one of my favorite skaters for awhile now, and I'm hyped to finally be able to put his name on a board. Watch his new part and he'll probably be your new favorite, too. You're the best, Blue! Congrats! —Nick Trapasso

9/20/2018

Evan keeps up the crazy, Axel tackles some big time kinks and Zion won't stop, baby or not! Who's gonna take it? MVP announced Tuesday at 9 pm!

9/20/2018

The boys from Blue Tile Lounge in Toronto just dropped another full-length gem. We'll be showing more parts in the coming days, but let's get things started off with a BDK BANG.

9/20/2018

Van was magical on a skateboard. He had a style and uniqueness that was all his own. Its been ten years since he passed away, but when I watch this part I feel closer to him. I'll always cherish the times I had with him, but for those who didn't get to see him skate in person, his video parts, like this one, are just like him: they're one of a kind. —Eddie Villa (Van Wastell's Brother)

9/20/2018

Madness is a new transition-heavy brand out of Dwindle and this inaugural offering does not disappoint! If you like watching the vertical plane get absolutely scorched then you're in for a treat. Sanity is overrated.

9/20/2018

The teams get a taste of fatherhood with the Baby on Board challenge. Last-minute bounties push Evan to the breaking point and Zion into his biggest stunt yet. A surprise at the finish line leaves everyone burnt. Watch it now! (US only) Webisodes (free worldwide) every Friday.

9/20/2018

The good news is there was no knock-out. The bad news is Braden's wide awake to feel lightning bolts of pain.
In The Mag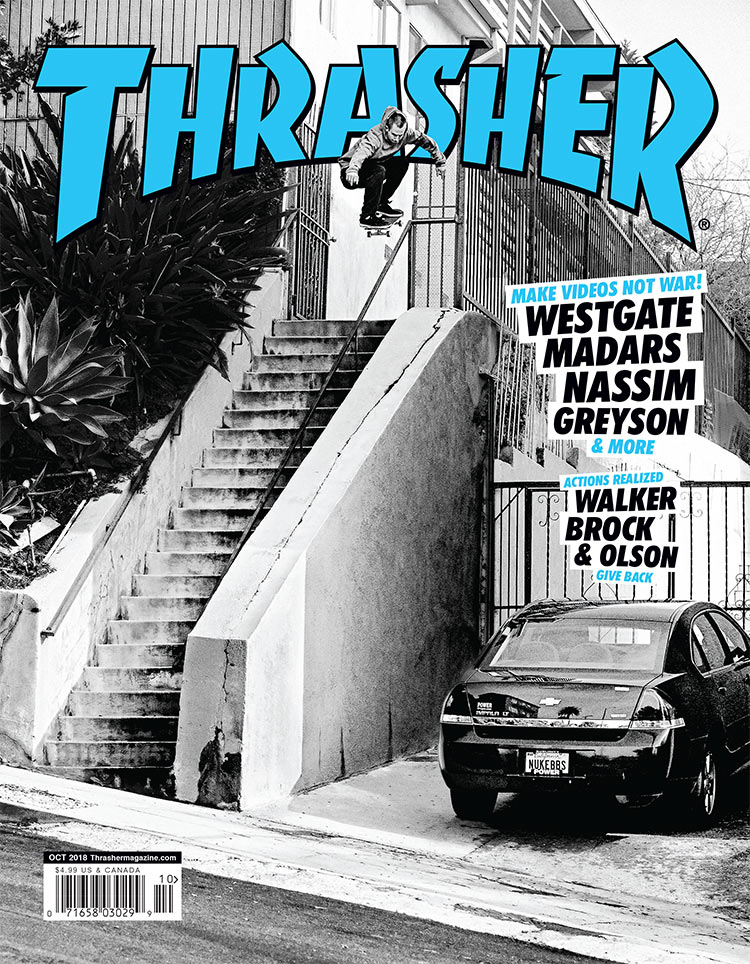 Outta the bog and straight into the fire, Brandon Westgate scorches onto the October 2018 cover with an ollie to perilous plank ride. More W-Gate inside by way of a feature interview—all handsomely shot by masterlensman Brian Gaberman—as part of a behind-the-scenes look at Element's newest video offering, Peace. Nassim, Jaako, Madars and Julian Davidson all get grilled, too. This vid is gonna be HEAVY! In tales of travel, REAL took their Actions Realized efforts to Chicago, Detroit, Providence and Taunton, MA, spreading the stoke and doing good deeds along the way. Circle-F-wise, Corey Glick and Dakota Servold both have interviews, letting you know that the new Foundation vid will be absolutely bonkers (as they always are). And if you're sick of low-impact curb dancing, have no fears—Nuke Baby is here to make sure those drops stay high and the rails stay kinked! Hope you're done with your homework because this one's gonna take over your life. Add this one to your collection.